Features:
Multiple calibers available
One shot stop
Street proven, patented and tested (US Patent #6,694,888)
No ricochets, shoot-throughs, splashbacks, or pass-throughs
Increased bystander safety
Economical alternative for personal defense, off-duty carry, and training
Match grade accuracy
For civilian and professional use.
The future in frangible NOW!
SoftShot™ Review
"Don't let the name fool you. It's hard-hitting combat ammo from Custom Cartridge. ...best of both worlds: ammunition with devastating power that also eliminates over penetration and ricochets while reducing shoot-through concerns. ... This lead-free, frangible hollow-point offers outstanding accuracy, superb muzzle energy and terminal performance that takes some of the risk out of firing a pistol in self-defense"
"SoftShot" — Guns & Ammo's Handguns Magazine, April/May 2004.
SoftShot™ Gel Shot, 223 Rem.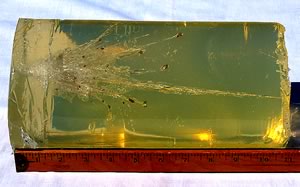 SoftShot™ Gel Shot, 9mm Luger